KIELSTEG CONSTRUCTION ELEMENTS
THE SMART WAY TO USE WOOD
Kielsteg is a series of lightweight, high-performance wooden construction elements used to form roofs and structural floors. Their strength comes from a unique cellular structure in which top and bottom layers of solid wood are linked by vertical webs of plywood or OSB. In cross-section, the webs form a characteristic curve in the form of a boat's keel; hence the name Kielsteg, meaning 'keel-web'.  
When you build with Kielsteg, you can: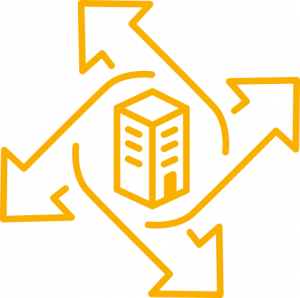 Kielsteg enables architects to design wide column-free spaces, ensuring maximum flexibility of use.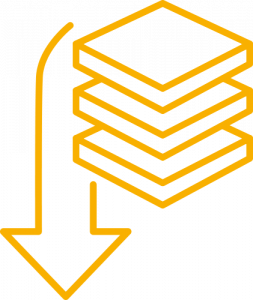 The ingenious arrangement of the wood in the Kielsteg elements saves weight and ensures unbeatable structural performance.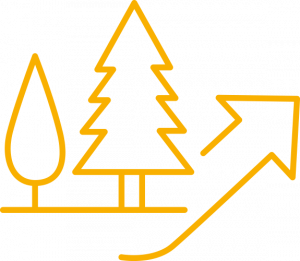 sing the renewable material wood helps protect the climate and fulfil our responsibility to future generations.
STRONG, EFFICIENT, ECONOMICAL
Kielsteg can be used to create roof spans from 6 to 27 m and structural floors with spans of 3 to 13 m. Its load-bearing performance across these wide spans gives designers and users the freedom to do whatever they want with the space.
Kielsteg can be used to form cantilevered projecting roofs up to 10 m deep without any additional reinforcements or supports, creating aesthetically and technically clean and simple solutions.
Kielsteg elements are produced both in a flat version and in a version cambered along their length. The cambered versions extend the range of design load that can be carried within required deflection limits (serviceability).
RAPID, UNCOMPLICATED, EFFICIENT
Kielsteg roof and floor assemblies occupy less built height than many alternative systems. For any given total height of a building, this helps achieve the maximum free height in the interior.
The factory production process with guaranteed parameters and standards ensures constant quality and enables detailed prefabrication for specific projects. In turn, the high level of prefabrication saves construction time on site.
Without any additional treatment, Kielsteg elements achieve a fire resistance of up to REI 60. The space inside the elements can be used to install pipes and wiring.
ECOLOGICAL, SUSTAINABLE, RESOURCE-EFFICIENT
Kielsteg is PEFC-certified. The cellular structure of Kielsteg concentrates the wood exactly where it contributes to the structural performance. This means that Kielsteg contributes to sustainability both by using a renewable raw material (which sequesters CO2) and also by using it very efficiently.
The wide spans that can be achieved with Kielsteg reduce the number of internal supports needed in a building and because this makes the interior more adaptable, Kielsteg can help to make the service life of buildings longer. With their light weight, Kielsteg elements make it easier to add new structures on top of existing buildings and help reduce or eliminate the need to strengthen the substructure. In the same way they help to reduce the load on the foundations of new buildings.
Kielsteg roofs are suitable for use both as platforms for solar panels and also as green roofs.
DISTINCTIVE, PREMIUM, NATURAL
The natural, untreated surfaces of Kielsteg have a distinctive striped appearance that designers can use to add a touch of class.
Kielsteg surfaces also add to the look and feel of a space: you can use them to enhance subjective thermal comfort, colour mood and acoustic quality.
No extra cladding of the elements is needed either for aesthetic reasons or for fire resistance. As an unbroken wooden surface, a Kielsteg ceiling can also be used to attach utilities and fittings.
Just-in-time manufacturing
The Kielsteg construction elements are manufactured in Austria by Kulmer Holz-Leimbau GmbH. Kulmer have more than 30 years' experience in wooden building and have a well-deserved reputation as a pioneer with innovative laminated wood products, which they make in their 14.500-m² factory.
The production line is highly flexible and manufactures all the Kielsteg elements, in heights from 280 to 800 mm and in lengths of up to 35 m, either flat or cambered along their length. All production steps (sorting, finger jointing, planing, glue application, assembly and pressing) are carried out in accordance with the high standards of the structural wood lamination industry and are monitored by the materials testing laboratory at the University of Stuttgart.
Latest news, topics and projects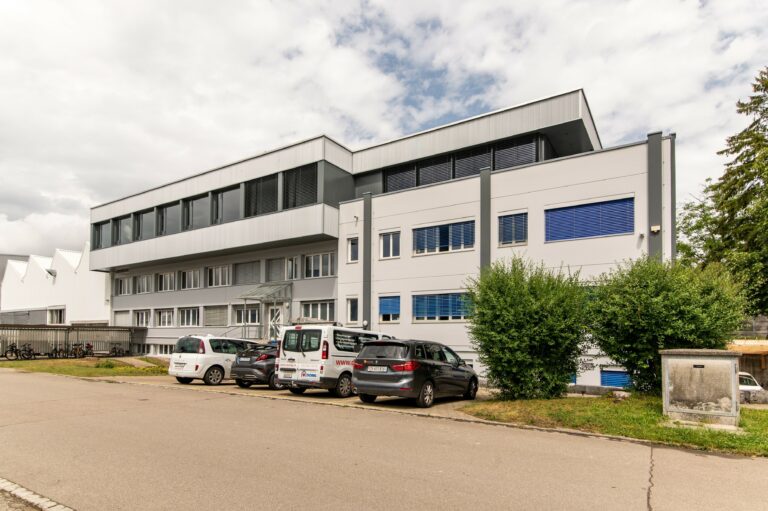 The headquarters of the pump manufacturer Hidrostal AG in Neunkirch is home to the company's research and development centre, the sales department and a factory, including the in-house foundry for pump castings. Hidrostal's growth in recent years led to a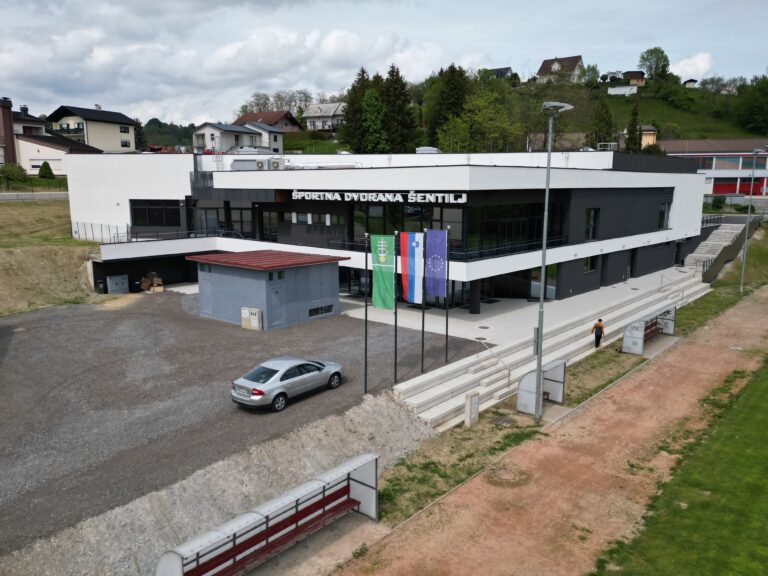 Šentilj is a small town in the northeast of Slovenia, on the border to Austria, with 8,452 inhabitants. The town has grown strongly in the last two decades, and this created the need to build the new sports and leisure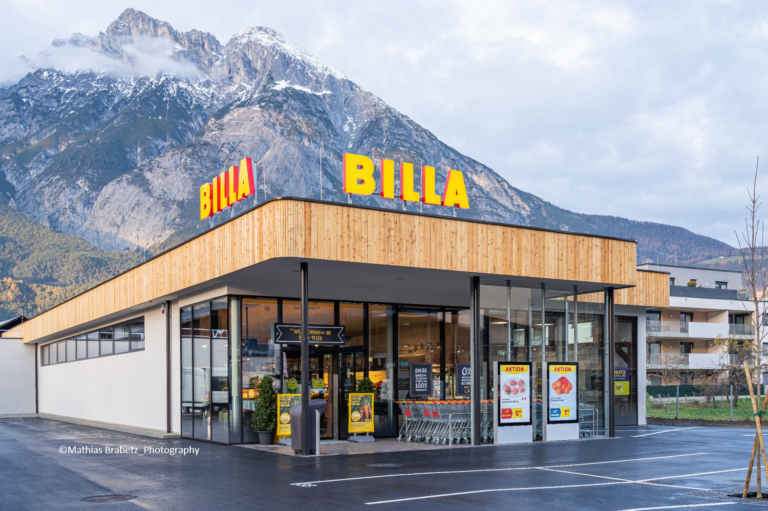 BILLA has had a branch in Telfs since 1990, and the shop was showing its age. The company chose to replace it with a completely new building. Impressively, the whole project was completed in 80 days from demolition to reopening.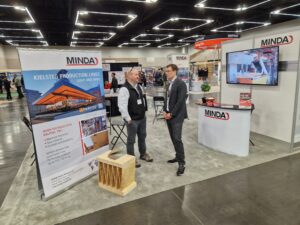 We are pleased that MINDA Industrieanlagen gave us
Browse a selection of the most interesting Kielsteg projects in Europe from recent years. Every one of these projects is an example of how to use Kielsteg to realise top-quality solutions to architectural, functional and environmental demands.
By choosing Kielsteg, the owners, architects and engineers demonstrated their understanding of the values of contemporary buildings – using wood as a highly sustainable, but also high-performance construction material.
Consulting and support throughout Europe
We have highly competent distribution partners in many European countries, who can give you good advice and service. Experienced engineers can answer your questions on structural design, building physics and fire protection. We will help you develop a building concept with the Kielsteg system, and with the dimensioning of the Kielsteg elements.
BELGIUM
Laminated timber solutions
GERMANY

KIELSTEG Deutschland GmbH
NORWAY
Wood by Control AS
SWITZERLAND
Holz Stürm AG
Do you have questions about Kielsteg? Should we call you back? How can we help? Fill out the form to send us a message.
The box contains a sample of a Kielsteg element and our current project portfolio. On over 100 pages, it contains detailed descriptions of the most interesting buildings that have been made with Kielsteg in recent years in Europe. Simply fill out the order form and we will send you the free sample box.
More than 140 pages of Kielsteg projects
The current edition of our project portfolio presents many examples of successful Kielsteg projects, illustrating the wide range of possible applications. Office and commercial buildings, factories and warehouses, supermarkets, R&D institutes, schools, kindergartens, restaurants, shops, and adding extra storeys to existing buildings all feature.
Technical handbook for architects and engineers
The 132-page technical handbook is an essential guide to using Kielsteg elements, covering design, structural engineering, detailing and building physics. The spectrum of possible Kielsteg applications is explained with a repertoire of practical project examples. A comprehensive introduction and reference for architects, designers and engineers.
"Where space is at a premium and it's hard to create any more living space, we create solutions for new multi-storey apartments on top of the existing building."
"This is probably the most advanced and environmentally friendly coffee roasting factories in the world."
"Apart from the foundation slab, the entire building can be completely dismantled, taken away on a truck and set up in a different location."
"KIWI is the country's biggest supermarket chain, so we have a responsibility for the way we build."
"Our building made of wood and glass has a strong vitalizing effect in the middle of the historic complex".
"Building this store helped us to develop our knowledge of sustainable building."
APPROVALS AND CERTIFICATES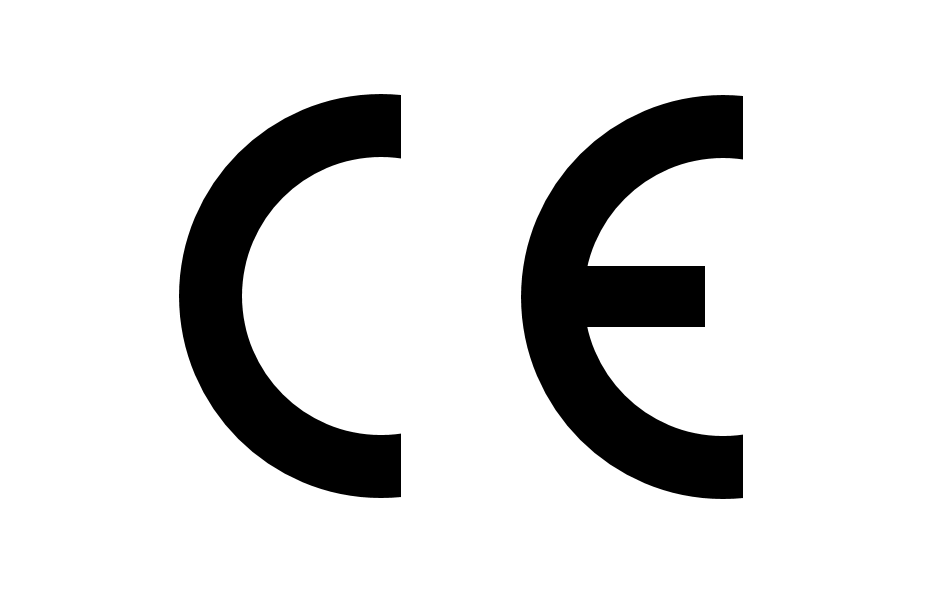 The European Technical Assessment regulates the manufacturing and use of KIELSTEG elements in the member states of the European Union as the basis for the CE certification mark.

Environmental Product Declarations (EPD) provide the data for environmental assessments. They enable meaningful comparisons of building materials for the first time. A cradle-to-grave EPD enables comparisons in systems or in whole buildings, over their whole life cycle.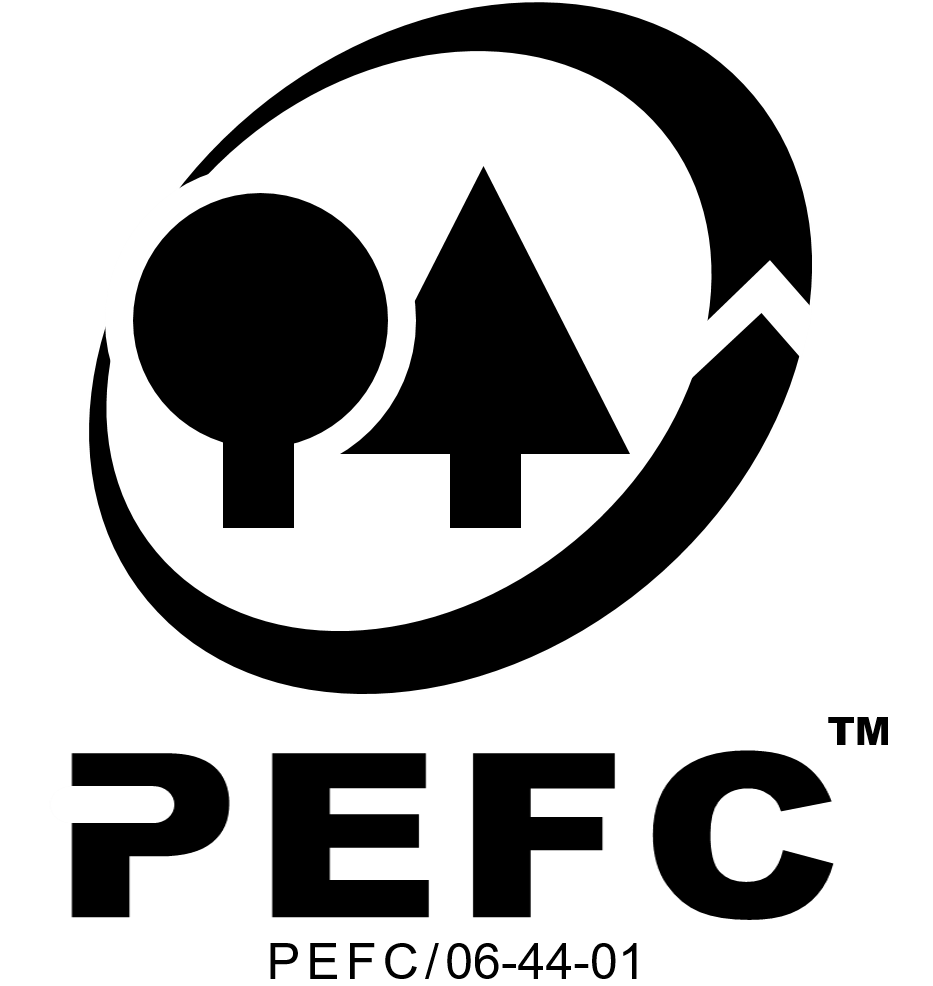 PEFC, the Program for the Endorsement of Forest Certification Schemes, is a certification and labelling program for products derived from ecologically, economically and socially sustainable forestry – covering the entire processing chain. When customers buy products with the PEFC label, they can be sure that their purchase supports environmentally friendly forestry.